Lawrenceburg's Leader in Pressure Washing Services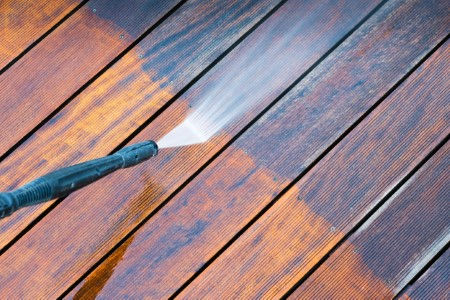 Daniels Clean Exteriors works hard every day to help Lawrenceburg area homeowners with professional pressure washing. Keeping the outside of your home looking clean and cared for isn't just about curb appeal, although that's high on the list of benefits.
Until you see, firsthand, the results of what nature throws at your home's exterior, you don't realize what a negative impact it can have. Smoke, dust, acid rain, and road salt are just a few examples of harmful contaminants that can tarnish your siding.
We know you want to take better care of your Lawrenceburg home, so stop procrastinating. Commit to calling us for a free estimate, and we'll provide you with a level of deep exterior clean you didn't even know was possible.
Benefits of Service From House Washing Specialists
It's easy to become oblivious to the way your Lawrenceburg home looks on the outside because the buildup of mildew, dirt, and other unsightly contaminants happens over time. However, you can be sure that your neighbors notice.
Have someone visit for the first time, and you're going to find that you're not making the first impression you'd hoped.
The sooner you schedule your house washing, the better, and you can expect positive results:
Improved Curb Appeal
Increased Property Value
Repair Prevention
Eliminate Algae
Prevent Mold
And that's just the beginning. The list of perks related to keeping your home's exterior clean is lengthy.
If you schedule a routine cleaning service, then you'll never have to worry about your home being filthy. It's also an essential step in the home painting process and no house painting should occur until you've adequately prepped the exterior.
Don't accept subpar cleaning or try to make this a DIY project. Contact us and know that the job will be carried out in a safe but effective manner.
Improve Your Property with Window Washing
The windows you select for your dream home are meant to give you beautiful and unobstructed views. Plus, they're meant to be an attractive feature of your house too.
Windows are both functional and decorative, but when dirty, they're just an eyesore. Set up professional window cleaning, and you'll be glad you did.
Clean windows work better. Without dirt in the tracks, you'll have fewer instances of problems and repair needs.
This type of maintenance also improves the overall performance and maximizes the lifespan.
Well-kept windows make it possible for you to maintain the property value.
Keep the windows clean, and you'll improve the natural light quality.
This even helps the window's efficiency.
Take good care of your home, and don't ignore the need to include your windows in that cleaning to-do list. Call us now for the best in local Lawrenceburg pressure washing.
Reviews & Testimonials on Daniels Clean Exteriors in Lawrenceburg, TN
There are currently no reviews or testimonials for Lawrenceburg, TN. Check back soon!