Daniels Clean Exteriors: Pulaski's Premier In Pressure Washing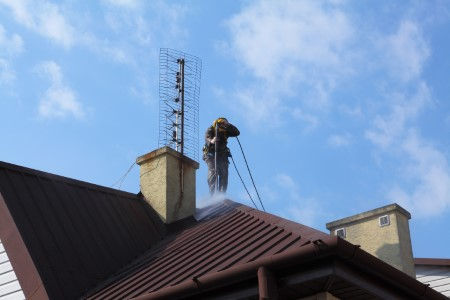 It's not uncommon to need Pulaski pressure washing services several times a year. Although most homes are at least on a maintenance schedule of at least once a year.
Probably the most critical factor in determining which company to use, so you get the most thorough cleaning service. Savvy Pulaski homeowners who have done their research quickly learn that Daniels Clean Exteriors is the local name to trust.
We're dedicated to the two S's when it comes to the work we do: safety and satisfaction. It's impossible to get anything but superior results with the techniques we use, and the approach to customer care we take.
How Often do You Need Pressure Washing?
There are a lot of factors that determine the frequency in which you'll need professional pressure washing for your Pulaski home. House washing is something you should schedule often enough to be a part of your regular preventative maintenance.
Some ways you can figure out how often you'll need exterior cleaning are:
Amount of Direct Sunlight
Number of Trees
Proximity to Water
Before Painting or Staining
Rain Levels
Age of the Home
Siding & Roofing Material
How often you need your home power washed can vary from one year to the next. For instance, years with more rain means you're more likely to have dirt and algae accumulation.
If you've ignored the need for pressure washing for too long, you may want to do it more frequently to get it back on track. Algae can be challenging to get rid of and keep away.
As your trees mature and create more shade, you may find yourself in need of house washing on a more regular basis. Once you remove more natural light and add more damp conditions, you can expect more fungal growth.
Roof Safety with Soft Washing
Your rooftop is the most important feature of your home. It's what protects the rest of your structure from the elements, as well as the people and property inside.
That's why soft washing is so critical; you can't use the same cleaning techniques for your roof as you would other aspects of your home.
Soft washing relies on cleaning solutions to improve the look and condition of the surface, instead of a stream of high-powered water.
Roof washing is how you prevent water intrusion. Pressure washing leaves pockets of water under the shingles, and that results in mildew and, eventually, mold.
Standard pressure washing can also tear at shingles. This level of possible damage isn't worth the sacrifice for a thorough clean.
Call us now, and let's get your Pulaski pressure washing or roof washing scheduled.
Reviews & Testimonials on Daniels Clean Exteriors in Pulaski, TN
There are currently no reviews or testimonials for Pulaski, TN. Check back soon!