The Leader In Pressure Washing in Killen That You Can Trust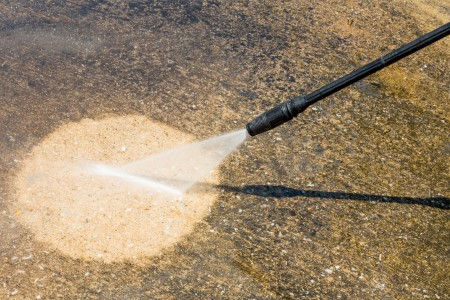 Scheduling Killen pressure washing for your home is as important as any other maintenance work. Daniels Clean Exteriors has earned a reputation for reliable service and superior cleaning.
While power washing is essential for improving the appearance, it's also crucial for preventing repairs. It does away with harmful contaminants and even dirt that clogs the mechanisms of features like your windows.
Protect, beautify, and improve your Killen home with our professional pressure washing service. Let us show you what a difference it makes to receive high-quality workmanship.
Types of Concrete Cleaning
Even though your concrete surfaces are often viewed as functional and not cosmetic, it doesn't mean they don't need TLC. Concrete cleaning is vital for:
Driveways
Pavers
Sidewalks
Patios
Other Concrete Surfaces
Utilitarian materials still need to be taken care of and look good. Dirty concrete detracts from your curb appeal, so schedule a regular cleaning.
Your concrete has a better chance of remaining in good condition and staying durable. Specific pollutants can damage your concrete and break it down over time.
Well cared for concrete adds to your home's value. Scheduling cleaning will ensure that you're able to maintain the property value of your home.
Just make sure that you hire a local, reputable service provider to get the job done. This isn't the type of work to be handled as a do-it-yourself job.
Taking care of pressure washing for your Killen home is a job for trained and experienced experts. Otherwise, you could end up suffering property damage or personal injury.
Top Reasons for Professional Pressure Washing
We realize your to-do list is lengthy. It comes with the territory of being a homeowner.
It's always good when you know which jobs to pass off to professionals, like power washing.
Just make sure cleaning the exterior of your home isn't something you ignore altogether:
Pressure washing increases the property value of your home. You don't have to be listing your house for sale to want the maximum value still.
Exterior cleaning is a necessary first step before painting or staining the surface. It's preparation for getting the home or deck ready for paint or stain application.
Any form of preventative maintenance is smart because it saves money on repairs. It's more cost-effective to invest in preventative care than repairs.
A clean exterior for your home means fewer instances of harmful toxins making their way inside your home. This is especially true for households with members who suffer from asthma or allergies.
Together, let's make sure your home is sparkling clean. There's no time like the present to call us for Killen pressure washing, and we're ready to work for you.
Reviews & Testimonials on Daniels Clean Exteriors in Killen, AL
There are currently no reviews or testimonials for Killen, AL. Check back soon!