Keep the Exterior Of Your Home Pristine With Professional House Washing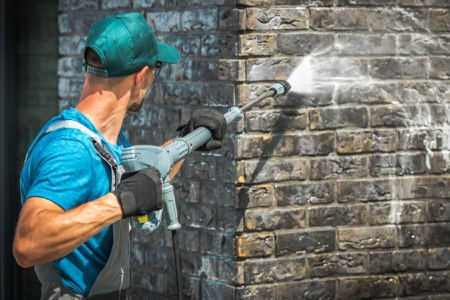 Savvy homeowners know the value of setting themselves up for success with regular house washing service for their Florence area property. Maintain your curb appeal and remove harmful contaminants by letting the Daniels Clean Exteriors team schedule your cleaning service.
It all starts with your free estimate and ends with your total satisfaction - and a really clean home. In fact, we'll give you back that good as new look.
Include roof cleaning in the service so you can take care of cleaning your home from top to bottom. Get in touch with us today, and let's schedule your professional house washing.
Maintaining Your Home With Professional Pressure Washing
When you schedule a Florence pressure washing service to clean the outside of your home, you can expect exceptional results from our team. There are many good reasons you should plan your house washing service, such as:
Remove Dirt
Prevent Permanent Stains
Eradicate Mildew & Mold
Get Rid of Irritants
Improve Curb Appeal
Increase Property Value
As a homeowner, you want to take the necessary steps to keep your home in tiptop shape. We'll work with you to help make that possible, from rooftop to foundation.
Pressure washing is also an essential first step in priming your home's exterior for professional painting. Before you can get started with the painting, you first need to prepare the surface.
If you're planning on selling your home anytime soon, this is a great way to increase the value and up the asking price. It's a minimal investment for maximum returns.
Even if you're not listing your house for sale, it's not a bad idea to maximize the value. Stay current with cleaning as part of your maintenance routine, and your home will always be in exceptional condition.
Why Hire a Pro
Walk into any big-box retail home improvement store, and you'll notice they all offer pressure washing equipment for sale or rent. It leaves you to wonder why you should hire a professional when you could just take care of it on your own.
Yet there are many good reasons you should leave this type of work to trained and experienced experts:
Above all else, it's safer to let industry experts handle the job. Prevent contact with high-pressure water or stepping on slippery steps, and you'll avoid personal injury.
There's almost no chance of ending up with property damage when you let the professionals do the work. Attempt to do the work on your own and you could do more harm than good.
You'll also be much happier with the final outcome of the project when you let a professional team execute the job. Otherwise, you're likely to end up with a lot of areas you miss and those dirty spots become the focal point of your home's exterior.
Call us today for the best results for house washing in Florence.