Keep Your Florence Deck Clean With Professional Deck Cleaning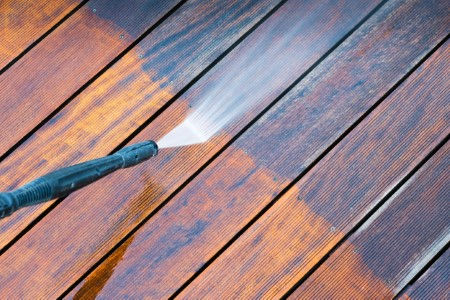 Trust Daniels Clean Exteriors for services like deck cleaning for your Florence home, and you'll be glad that you did. The work that we do gets good results, and we make sure to deliver customer satisfaction for every job that we take on.
Deck cleaning is an essential part of having an outdoor living space. Without proper care and upkeep, you won't be able to enjoy your deck.
We'll work with you to schedule regular cleaning so your deck will always be in tiptop condition. Don't take chances with your decking by neglecting to get the professional cleaning that's required to keep it maintained.
Deck Cleaning With Professional Pressure Washing
Hiring pressure washing pros for your deck cleaning is the most effective way to get good results. This is an essential part of getting the lifespan you were expecting from your decking system.
Without ongoing maintenance and care, you can end up with issues like:
Deck Deterioration
Mildew & Mold
Wood Rot
Slippery & Dangerous Algae
Accelerated Aging
From the moment your new deck is installed, it's going to need ongoing maintenance so that you can get the performance you were expecting. Neglect your deck's need for cleaning and care, and you'll end up shortening the lifespan and getting less than stellar performance from it.
Your deck will look unsightly but also be a safety hazard. If rot forms, it can threaten the structural integrity.
On the surface, algae and mold will form, and that makes it slippery for foot traffic. Avoid slip-and-fall incidents by keeping the deck surface clean and spotless.
Protect & Beautify Your Deck
Cleaning your deck can mean anything from concrete cleaning to wood cleaning. For that very reason, you need to work with a professional who adapts to the surface material.
The last thing that you need is to end up damaging the material you're having cleaned - it defeats the purpose. This is also an excellent reason to hire a professional for your pressure washing instead of attempting to do the job yourself.
Professionals will get you better results and a more thorough clean. Attempt to do the work yourself, and you're not as likely to be happy with the results.
A professional pressure washing company will also apply the proper techniques for cleaning a variety of surfaces. What's necessary to clean concrete isn't the same as cleaning a more delicate surface like softwoods.
The work we do doesn't just clean now. Eradicating the contaminants that are lingering right now helps prevent them from redeveloping, at least not anytime soon.
We'll work with you to take care of all of your exterior surfaces, including your deck. Call now for your free estimate for deck cleaning for your Florence home.