Daniels Clean Exteriors: Muscle Shoals' Premier In Pressure Washing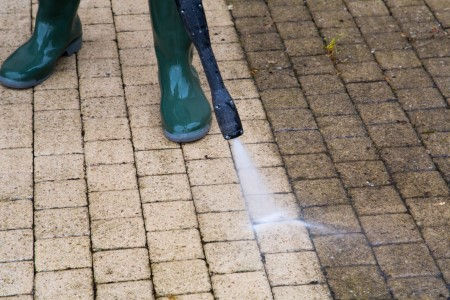 With consistent exposure to the elements day after day, arranging to have Muscle Shoals pressure washing is the logical solution. Erase the unsightly traces of dirt and grime left over by time by calling Daniels Clean Exteriors to get the job done.
We're bonafide experts when it comes to exterior surface cleaning and can help transform your home's current condition into that clean as new look. You'll be amazed at what a difference it makes to receive a power washing cleaning service for your Muscle Shoals home or business.
The change in appearance is nothing short of incredible and helps minimize the likelihood of needing specific types of repairs. It's your home, and you should be able to have pride in ownership, something we'll be able to restore for you through professional cleaning.
Reap the Benefits of Regular Pressure Washing
Homeowners who neglect to get regular house washing don't even realize what they're missing out on. Some of the benefits of scheduling ongoing exterior cleaning for your Muscle Shoals property include:
Clear Away Cobwebs
Eradicate Mildew & Mold
Get Rid of Algae
Remove Dirt & Mud
Wash Off Dust, Pollen, & Allergens
The buildup of these contaminants only gets worse over time, making your home look unsightly. Plus, dirt and dust can wreak havoc on the mechanics of features like your windows.
When you do away with the spiderwebs, it causes the spiders to relocate themselves too. Plus, any other bugs, critters, or pests that are hanging out on the exterior of your house.
Keeping a clean house also boosts the property value. So, even though you may not be planning on selling your house in the near future, it's still good to know you're maximizing the value.
Concrete Surfaces Need Cleaning Too
Concrete has an important job to do. It's strong and sturdy and commonly used for walls and pathways.
In other words, it's viewed as more of a utilitarian material than a decorative one. That ends up meaning that concrete surfaces get neglected, but they need professional cleaning care too.
Driveways
Sidewalks
Patios
Pavers
And other concrete surfaces
With constant exposure to the outdoors and foot traffic, it's no wonder they begin to look so ragged and often rather quickly. Using power washing to reverse this will help you restore the visual aesthetics.
Our job at Daniels Clean Exteriors is to provide you with the level of service and cleaning that will change the overall look of your home. Not to mention, it can eliminate problems like algae and lower the risk of repair needs.
It makes so much sense to schedule this service. So, call us now and have peace of mind you'll get the best when it comes to Muscle Shoals pressure washing.
Reviews & Testimonials on Daniels Clean Exteriors in Muscle Shoals, AL
There are currently no reviews or testimonials for Muscle Shoals, AL. Check back soon!