Clean and Protect Your Home's Roof with Roof Cleaning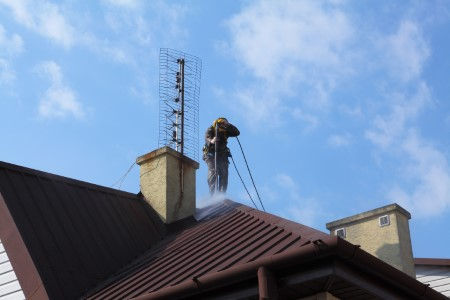 When you mention roof cleaning for Florence homes, the first thing that comes to mind is improved visual aesthetics. Yet, the truth is, hiring pressure washing pros for cleaning your roof is about much more than curb appeal, although that matters too.
Scheduling regular roof cleaning is critical for ongoing maintenance. It's that significant a part of taking care of your rooftop that it could be the difference between extending the longevity of your current roof or finding yourself stuck with a replacement before it should be time.
At Daniels Clean Exteriors, we'll work with you to ensure that you keep up with your low-pressure washing service as part of your rooftop care. It's crucial because your roof is the most essential feature of your home, with the crucial job of protecting your house from the elements.
Why You Need Soft Washing For Your Roof
It's essential that, as the customer, you get skilled service for your roof cleaning. This is more than just traditional pressure washing, which can end up damaging your rooftop.
Don't work with pressure washing companies that rely on standard high-pressure methods to get the job done. It can end up doing more harm than good.
Here's what you need to know about the soft washing alternative to pressure washing:
No-pressure washing methods differ from pressure washing because they use cleaning agents instead of water. These cleansers are biodegradable and safer for your roof, as well.
Using cleansing agents helps get the dirt out of nooks and crannies. It's safer but more useful than pressure washing for surfaces that require a gentler technique.
Getting rid of algae from your roof is about preventing destruction over time. Black streaks on the roof are actually a fungus that feeds off of the asphalt granules.
Once our team gets done with applying the cleaners, water is used to rinse it all away. However, the stream is equivalent to that of what comes from a garden hose and won't cause damage to your roofing material.
Avoiding Damage Caused by Pressure washing
Don't make the mistake of working with a pressure washing company that uses the same methods to clean your fence that it does your delicate shingles. House washing and roof cleaning aren't the same, and some problems that can occur are:
Torn Shingles
Damaged Shingles
Water Intrusion
Mildew & Mold
Roof Rot
Plus, the approach that uses cleaners with algaecide or fungicide doesn't just eradicate what already exists. Using this cleaning technique will also reduce the likelihood of the problem returning, at least anytime soon.
Taking excellent care of your home starts at the top, to protect all the way to the foundation. Contact us now for safe roof cleaning for your Florence home.