Remove Oil And Other Stains From Your Driveway With Concrete Cleaning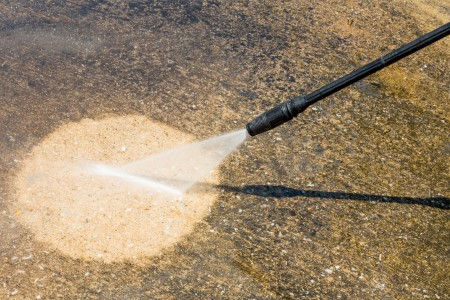 Daniels Clean Exteriors is a name you can trust for all things related to concrete cleaning in Florence. We're industry experts who are dedicated to ensuring that each customer gets the total package when it comes to service and results.
Your satisfaction is guaranteed with both the workmanship we do and the personalized customer care that we provide. Get in touch with us today and experience for yourself what makes us a local leader in this field.
Sidewalk Cleaning
A significant part of the concrete cleaning we do is taking care of sidewalk cleaning. Pressure washing your sidewalks is how you get a deep level of clean.
Aside from improving the visual appearance, professionally pressure washing your sidewalks will help remove any buildup of slippery contaminants that could cause a slip-and-fall accident.
By keeping the surface of your walkways clean, you also reduce the chances of frequently needing repairs. It just makes good sense to schedule this service, so call us now to set up your time.
Driveway Cleaning
The best way to take care of your driveway cleaning is by contacting our pressure washing professionals. Fail to get your driveway clean, and you can bet that it's the focal point of your home's exterior.
A dirty driveway is an eyesore and something that can easily be resolved. Our skilled team will help you restore the curb appeal of your home by pressure washing the exterior surfaces, including the driveway.
Keep it from being in a state of disrepair and free from slick substances like algae with our professional cleaning. Schedule regular service so you can always keep your driveway in immaculate condition.
Paver Cleaning
When it comes to concrete cleaning, you can also get paver cleaning. Pavers are excellent building material for flooring for patios or to create walkways.
Yet, that means they're subjected to foot traffic from above and weed growth from below. Keeping them cleaned and sealed gives your pavers the best fighting chance to hold up over time, whether they're for your driveway or part of your deck cleaning.
Pressure washing will help with the required ongoing maintenance, and keep each individual paver looking good. You'll be amazed at the difference you'll see once we get done with cleaning them.
Patio Cleaning
A patio is an outdoor space where you can spend quiet times or loud, boisterous family times. To keep your patio looking great for just sitting outside reading a book, or for those family get-togethers, you'll want reputable pressure washing experts to come give it a thorough once over on a regular basis. If you have any questions about our patio cleaning services, just give our team a call and let us help you keep your patio looking its best for years to come.
Clean Concrete Is Slip Resistant Concrete
Appearances matter, but safety is the priority. Daniels Clean Exteriors will take care of cleaning your concrete so you can all but eliminate the risk of having slippery surfaces that could cause someone to fall.
Don't take chances and don't settle for unsightly concrete - we're just a call away. Contact us immediately and get the professional concrete cleaning you need for your Florence home or business.