Commercial Pressure Washing For Your Commercial Property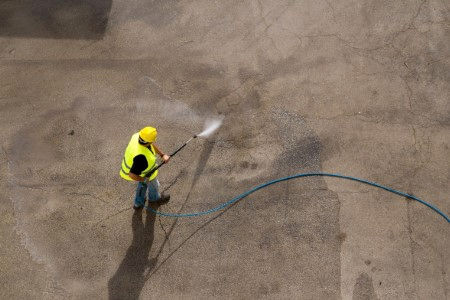 Daniels Clean Exteriors wants to make your Florence business sparkle and shine, and what better way than our commercial pressure washing? You can stay on top of keeping your commercial property clean, or you can get left behind in the dust, quite literally.
It's easy to get caught up in the day-to-day operations and lose sight of glaring details, like how your building looks. Unfortunately, the dingier your building looks, the more negative the impact this will have on what your customers think and your revenue.
There are so many factors working against you and causing your building's exterior to look unkempt. There's nothing our commercial pressure washing can't fix for you and restore the visual appeal of your building.
Smart Commercial Businesses Know the Value of PressureWashing
Why do so many businesses choose Florence pressure washing as a method of improving their building's appearance? There are countless reasons your property may get dirty, some natural and some man-made.
Either way, our industrial-grade cleaning can eradicate:
Dirt & Mud
Graffiti & Gum
Bird & Rodent Droppings
Grease & Oil
Mildew, Mold & Algae
Don't lose sight of what your building's exterior really looks like. The current condition could easily be driving away potential customers.
The initial cost of high-quality commercial pressure washing is a drop in the bucket compared to the amount of revenue you could be losing each day. A commercial building that looks uncared for won't attract potential customers.
In fact, quite the opposite is true, and you'll likely be sending those lost clients right over to your competition. We're here to help put a stop to that and increase the chances that your business can revert to luring in eager customers.
Do What's Best for Your Business
It doesn't even matter what type of business you have; your building needs to make a positive first impression.
Imagine a retail store covered in graffiti and bird excrement, compared to the one that's not.
Think about how much more appealing a restaurant is that looks clean and inviting, instead of caked in dirt.
How confident would you feel about doing business in a building that's dirty enough to be mistaken for abandoned?
Instill confidence in prospective clients who are considering your office to do business with by keeping a spotless exterior.
You'd probably prefer a local cafe that has regular sidewalk cleaning service than one that doesn't, even if it's a subconscious choice.
Show the world you mean business! The care you put into the products you make on the inside should be reflected on the outside too.
You focus on what happens inside, and we'll do our part to keep the outside looking its best. Get in touch with us today for commercial pressure washing that can be a game-changer for your Florence business.