Tuscumbia's Leader in Pressure Washing Services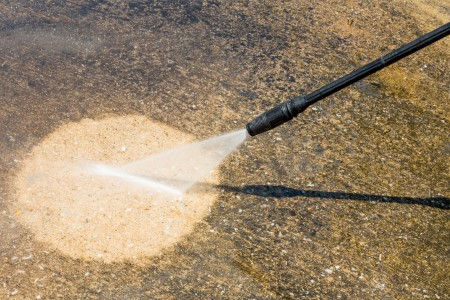 Daniels Clean Exteriors is proud to be a premier service provider for Tuscumbia pressure washing. We're committed to offering the best service and cleaning to local homeowners.
We start by giving you a free estimate because you shouldn't feel obligated. We earn our business with quality work, not intimidating sales tactics.
We also offer details like weekend hours because we want to work around the scheduling needs of our Tuscumbia-based customers. Finally, we deliver a level of superior clean that you didn't know was possible for the exterior surfaces of your home.
Safe and Effective Roof Washing Techniques
There's pressure washing, and then there's roof washing, and these are two entirely different jobs. The problem is that it's still common for some pressure washing companies to treat this as the same type of job and use standard pressure washing for roofing.
If you want to protect the integrity of the rooftop on your Tuscumbia home, you'll hire us to get a specific roof cleaning service. So, what's the difference?
When it comes to cleaning your roof, soft washing is the best approach to use. It's gentler for your rooftop but still gets it clean.
Traditional pressure washing can damage the roof. It tends to tear away shingles or trap water under them.
Soft washing for your roof relies on cleaning solutions to cleanse and sanitize. A Much milder stream of water is used but only for the rinsing process.
Using roof washing methods also helps treat the material, so fungal growth and algae aren't likely to develop again, at least not any time soon.
Scheduling roof cleaning sessions will prolong the lifespan of your rooftop. Plus, it can help minimize the need for ongoing repair services.
Dedicated Pros at Your Service
You can hire a company that does landscaping in the summer and supplements their income with pressure washing as a side gig. Or, you can employ pressure washing specialists who have a vast knowledge of the industry, as well as the latest in state-of-the-art equipment.
The choice is yours, but it should come down to who cares the most about your home's exterior. We're preferred because:
Weekend Hours
Free Estimates
Quality Workmanship
Superior Clean
Exceptional Customer Service
And that's just to name a few!
Some homeowners also assume they can make this a Saturday afternoon DIY project. Here's why that's not a good idea:
Dangerous for Personal Injury
Potential Property Damage
Messy
Dissatisfactory Results
Time Consuming
Plus, you won't save as much money as you're hoping once you factor in your time.
Call us and go ahead and let us do the hard work for your Tuscumbia pressure washing. You'll be glad that you did.
Reviews & Testimonials on Daniels Clean Exteriors in Tuscumbia, AL
There are currently no reviews or testimonials for Tuscumbia, AL. Check back soon!