The Leader In Pressure Washing in Loretto That You Can Trust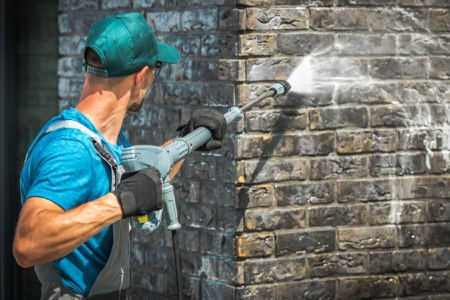 Daniels Clean Exteriors is a trustworthy and dependable company to rely on for Loretto pressure washing. You need your home's exterior surfaces clean, but you don't need them damaged in the process.
We take precautionary steps to provide safe but effective cleaning methods for all surface types. We work with each customer to design a custom plan so that your Loretto home looks as good as new when we're through.
The contaminants building up on your siding and other exterior surfaces don't just tarnish the appearance. Left untreated, these unwanted pollutants can damage the materials and cost you a lot of money in repairs, so let's prevent that from happening.
Deck Cleaning at its Finest
Part of your ongoing deck maintenance is scheduling professional deck cleaning. Once you add outdoor living space to your Loretto home, you then have the responsibility of keeping it in tiptop shape.
Keeping the surface clean is a big part of that, and here's how it helps:
Obviously, the appearance is the main benefit of keeping your decking clean. Have a deck that's ready to host any party, at any time, by keeping it clean.
Keeping your deck clean will help prevent mold, rot, and deterioration. Your deck can be rotting without you realizing it, and that poses a threat to the safety of anyone who uses it.
Making sure the surface of your outdoor living space is free from algae makes it safer for foot traffic. Otherwise, it can be the reason someone slips and falls, injuring themselves.
Cleaning your deck as part of the routine maintenance helps get it ready for another season of use in the fall and for closing off for the winter.
Power washing the surface of your deck is also an essential first step in getting it ready to be stained. Rid the surface of dirt and debris before sealing it with stain.
Power vs Pressure Washing - Are They the Same?
One of the common questions we get asked is whether power and pressure washing are the same things. While the two terms are used interchangeably, technically there are at least minute differences between the two:
Water Temperature
Water Pressure
Appropriate Surfaces / Materials
Type of Contaminant
Level of Clean Desired
Keep in mind, there's also soft washing, which is a form of cleaning exterior surfaces that need a gentler touch, like roofing. You and the professional that you hire should discuss the job and which will be appropriate for what you need to be taken care of.
Contact us now, and let's schedule your Loretto pressure washing.
Reviews & Testimonials on Daniels Clean Exteriors in Loretto, TN
There are currently no reviews or testimonials for Loretto, TN. Check back soon!