Avoiding Damage From Professional Concrete Cleaning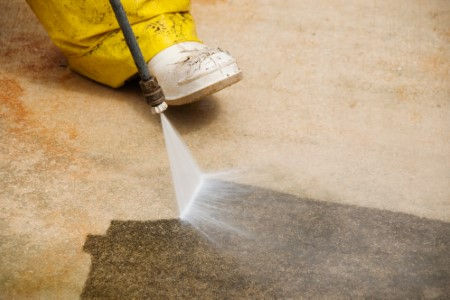 Can power washing damage concrete? The surprising answer is yes.
It's a common misconception that because concrete is so durable that it's impossible to damage, especially from just a stream of water. Of course, the logical conclusion is that you shouldn't schedule pressure washing for your concrete surfaces.
That's not true, and you should most certainly include your concrete surfaces among the exterior details you get professionally cleaned when it's time for power washing. What's essential is that you better understand what helps, so you get the best possible results from your exterior cleaning services without damaging your personal property.
Safe But Effective Concrete Cleaning
There are several exterior surfaces that you can pressure wash:
Concrete Surfaces
Driveways
Pavers
Patios
Sidewalks
Yet, before scheduling professional concrete cleaning, there are some things that you should know:
Pressure washing can degrade your concrete surface.
This damage can be minute enough not to be easily visible.
Irreversible damage can occur without anyone seeing it happen, even industry professionals.
Some concrete is weaker than others; natural aging can weaken it.
The most common reasons for damage include excessive pressure, incorrect nozzle, or holding the nozzle too close to the concrete. Also, if the injector is held over the same area for too long, this can cause damage.
The best way to avoid damaging your concrete is to choose the professional you hire carefully. An established pressure washing company with a flawless reputation is the smartest place to start.
Don't work with contractors who do this as supplemental side work to their primary professional focus. Also, don't agree to work with anyone who uses the same cleaning technique for all exterior surfaces.
Who Can You Call for Excellence?
Don't take chances when it comes to the work you get for your home. Even your concrete cleaning needs to be done with expert precision, that's how you get superior results without any damage.
At Daniels Clean Exteriors, we have the training, experience, and skill to get the job done right. Safe but effective exterior cleaning techniques happen to be our specialty.
Our goal is to make your concrete look as good new again, without compromising the overall integrity. What's the point of getting the surface clean if it's going to be damaged in the process.
Sometimes, this even means using a milder method, but one that still gets deep-clean results. Soft washing is an alternative to standard pressure washing, so make sure you only partner with a professional who offers more than one type of cleaning method. Call us today, and you'll be in the best hands for Florence pressure washing.